I had a client called Morius who lives in Australia, he is a Treasure hunter. He contacted me early October 2015, to do some research for him on the Inverloch area which is south east of Melbourne. I completed this work, and forwarded all the relative information to him with my Invoice, which he had agreed to pay. As all can see from the attached emails between us, I expected to receive payment for my services as he promised.

Payment has not been forthcoming, despite my having given plenty of time and notice. This is why I will have to insist in the future that any research I do WILL NOT be released until payment has been received in full, either via BACS or Paypal or Cheque by myself.

The following emails are some of the correspondence between myself and the client. As he has not paid I can post all the relative information regarding this project and hope other treasure hunters may benefit from it. I want to make it clear to everyone of the difficulties I have had, not only with this client, but with others in the past, who fail to pay the agreed amounts, especially when they have received the information they requested.

To all Treasure Hunters in Australia, and throughout the World, be wary of this man Morius as he may con you as he did me.
This is a copy of the first email sent to my client on 7 October with my report:


Dear Morius,

Thank you for your skype call. this will be the first of two emails with google earth attachments.

Please see 4 attachments in this email.

Map 1 - is the first location of where I believe the steel vault is. As you can see it is a fair way from Inverloch.

Map 2 - This is closes to the target area at 2 mile distance.

Map 3 - this one is now at a 1000 feet.

Map 4 - brings you down to 300 feet which is then creating more of an accurate target area. any further down it will become blurred.

Research on the target area of the steel vault - my map surveying is indicating it could be 5 to 5 1/2 feet below ground. The length of the casing is 4 feet 6 inch and the width is 3 feet. Estimated time of it being buried originally I am picking up is the year 1890. The amount of gold I believe which was buried was in the region of £9,000 probably in today's value it would be in the region of £80,000 I would think. The treasure remained in that location until 1914 and sometime in that year possibly the 27 May 1914 the treasure was removed from the vault and moved to a new location and then shared out. I suspect either by the original 3 people or maybe one or two of them had died but I suspect had the treasure and gave the illusion to everyone that they were still searching.

Further email to follow with attachments.

Kind regards, Peter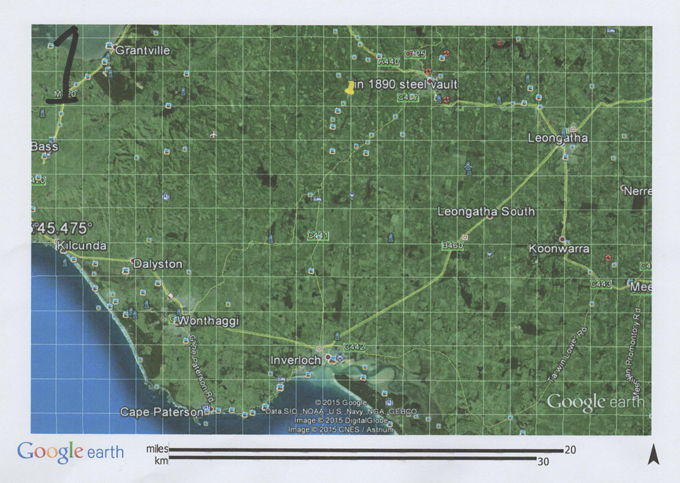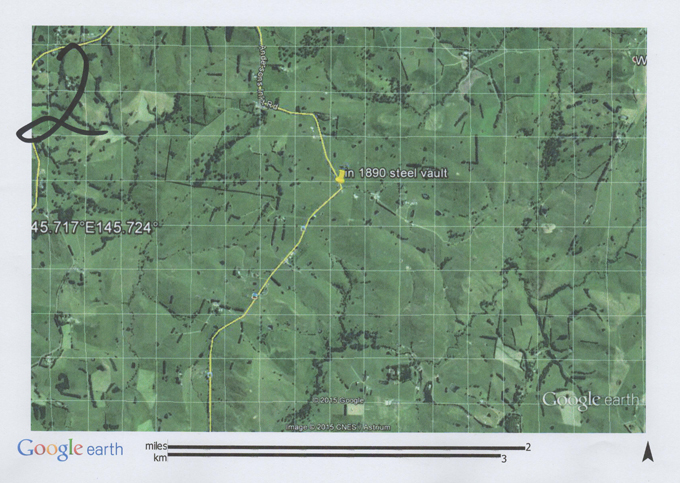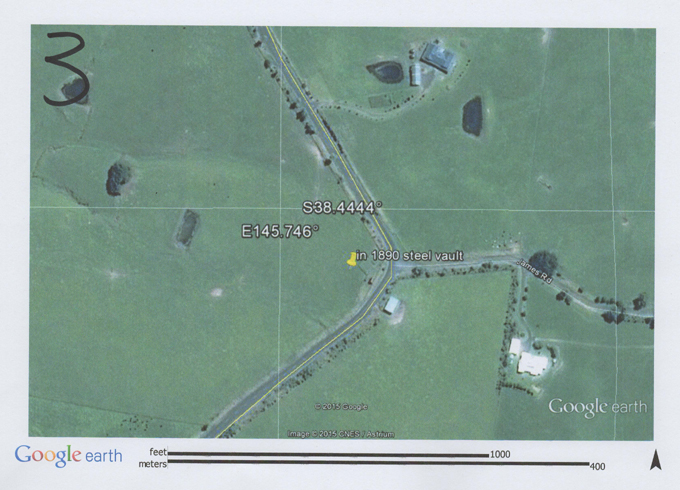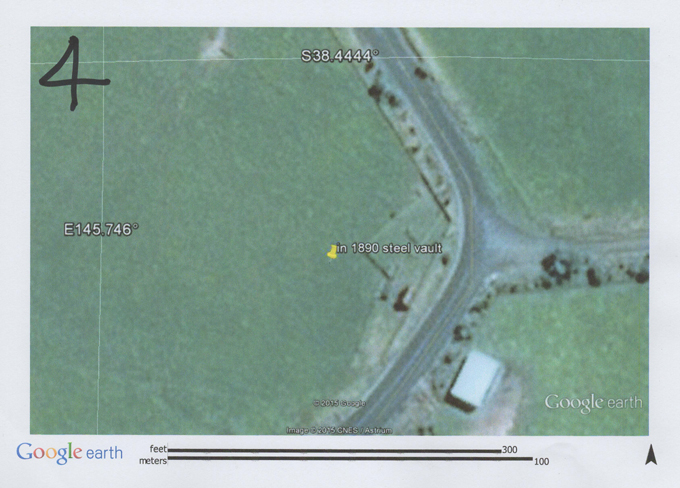 This is a copy of my 2nd email to my client with the information & invoice sent on 7 October 2015:

Dear Morius,

Please see 2 further attachments of google earth maps

Map 5 - shows you the 2 areas the 1890 area and the second location is where it seems to have moved to in 1914 and as you can see it is not too far from its original area Inverloch.

Map 6 - is an enlargement of the area where I believe the treasure was taken to in 1914. It might be worth checking out to see if there was an old property where the marker is or in that area where the treasure could have been shared out.

Unfortunately this seems to be the end of the trail.

Sorry it hasn't had a good ending. I have spent 5 hours on this work and I attach my invoice for your kind attention.

If you have got any questions please contact me by phone, skype or email and if I'm not available I will get back to you as quickly as I can.

Just to let you know I am not available tomorrow morning (Thursday) and I will be out with a Client on Friday doing a borehole.

Kind regards, Peter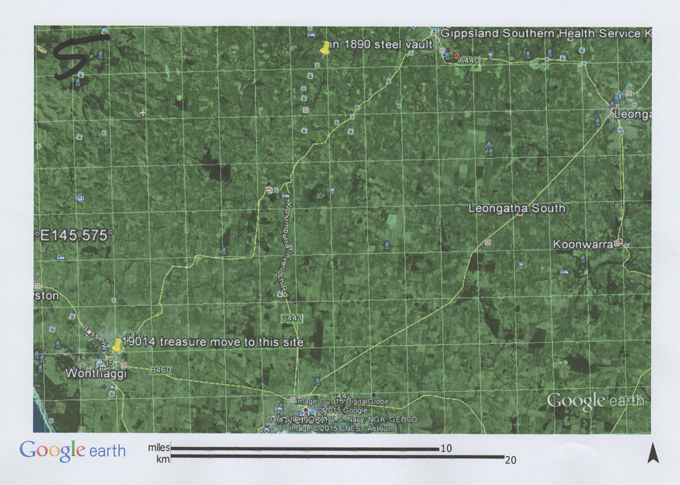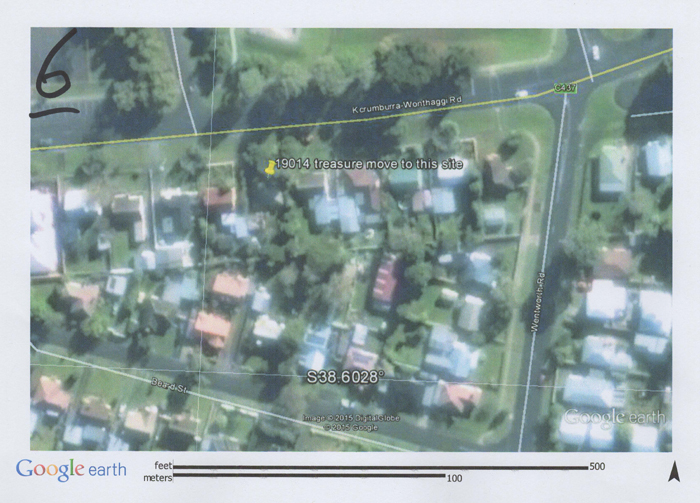 This is a copy of an email sent from my client on 7 November 2015:



DEAR PETER

THANK YOU FOR YOUR WORK ON THIS PROJECT, I HAVE A QUESTION IF I MAY, REGARDING MAKING A PAYMENT VIA PAYPAL DO I USE THIS EMAIL peterjtaylor@talktalk.net WITH PAYPAL WHEN SENDING THE MONEY? , DONT WANT TO MAKE A MISTAKE AND HAVE A HUSTLE WITH THEM , PLEASE LET ME KNOW IF YOU WOULD

KINDEST OF REGARDS

MORIUS

Copy of email sent to Client on 14 November 2015:


Dear Morius,

I am disappointed that it appears you have ignored my requests for confirmation of receipt of emails. Is there a problem? I have given you more than enough time and notification regarding the bill and it remains unpaid.
You have 48 hours to pay in full and settle our account, i.e. funds should be in my account by Monday. If I do not receive payment in full, within the next time limit, you leave me no option but to take action by contacting all the organisations that I am a member of (such as BSD UK the American society of dowsers and not forgetting the Treasure organisations to whom I have several contacts with). I shall inform them of your lack of willingness to pay the agreed fees. Furthermore the confidentiality agreement will be void - which will release me to divulge any and all information I have gained in relation to the site you asked me to work on.
regards
Peter Taylor
GLOBAL DISCOVERY
Finding water, noble minerals,
oil and gas fields by site visits
and map surveying. Geopathic Stress
01352 754052



---