Are you interested in the history of Clogau gold mine? Click here to see more photos and extracts about the mine.
In 1996 and 1997 Peter was successful in locating several substantial gold deposits prior to the mine closing. Above are some photos from the site visit, and below you can view references for Peter.
March 1997 - I wish to confirm that we have found samples of gold....only found by your guidance more...
December 1996 - I am extremely impressed with the thoroughness and the way you have located a new gold vein at the Clogau Gold Mine more...
July 2000 - Mr Taylor has proved to me that his method of map-dowsing...for precious minerals is successful more...
Even more info about gold can be found on Peter's dedicated gold site www.prospectinggold.co.uk
Some of my own gold ore and copper ore with gold in and gold bits I found by dowsing.
Gold is difficult to find even for a dowser. Gold leaves images of itself as many as four can be around one piece of gold which means that the dowser can actually get a reaction and thinks its gold but in actual fact it is an image or a mirage of the actual gold which could be several feet away from the image which can confuse people and it takes a professional to know how to avoid the images which takes time and skill to learn. The skilled dowser learns to visualise the source he is looking for; that helps to reduce the amount of false images surrounding the actual gold. This is just one of many pitfalls which an amateur can come across.
Before Peter went to Clogau Gold Mine he spent 3 1/2 years research and practicing before he was approached in 1996 by the Manager of Clogau who noticed him practicing his technique and invited him to the mine which then Peter spent 18 months going to Clogau Gold Mine on his days off from work plus map dowsing for the Company to gain practical experience and knowledge on site and understanding of the geology of potential gold fields. In return for this experience he was successful in finding three separate deposits of gold for the Company.
Gold prospectors who need to help finding gold deposits may be interested to know that Peter is experienced in working alongside geologists to find deposits.
More details on www.prospectinggold.co.uk
One question that comes up a lot is "how do you dowse for gold".
My answer to this question is like all subjects you have to study the subject in this case its gold so you read up on the natural gold such as alluvial gold and primary gold. Primary gold is the first stage. Alluvial gold is the second stage. In other words the primary gold was in the mountains first over millions of years and then the erosion took place over further millions of years when sediment in the rocks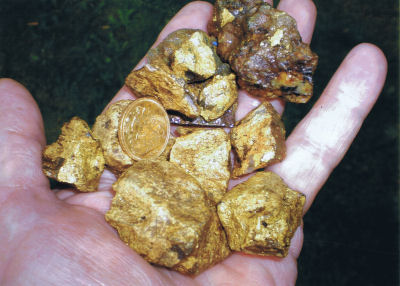 built up on top creating what is know as "alluvial gold" or "secondary gold". Primary gold is the gold within the rock formation in the quart veins and which has not been broken down. So you need to read everything on this subject and then visualise the natural gold then do experiments at home by using 8 bottles and putting in different minerals in each bottle and of course gold in one of the bottle. Black out the bottles so that you can't see what is in them, mix them all up, spread them out, then walk towards the containers. As you go over the containers the one with the gold should react but remember that gold leaves images of itself. You must learn to eliminate the images and concentrate solely on the container with gold. If you succeed with this then you can really go out and search for gold or you can map dowse for gold.